June - July 2014
Compartido: 250
280
Comentarios: 120
Don't miss Buenos Aires: the new international campaign from the government of the City of Buenos Aires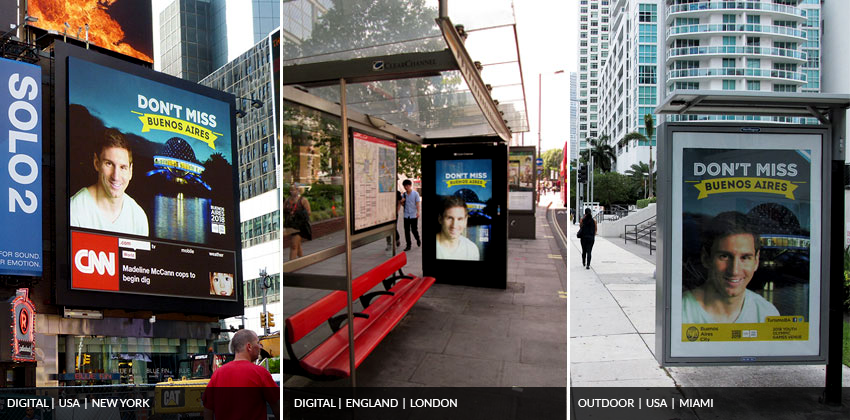 To promote Buenos Aires as a tourist destination, the city's government developed a new OOH global campaign in the world's most important cities, featuring Lionel Messi, goodwill ambassador for the 2018 Youth Olympic Games.
After winning over Medellin and Glasgow in 2013, Argentina's capital, host of the 2018 Youth Olympic Games, recently appointed the captain of the Argentinian soccer team as official ambassador of this worldwide educational and sporting initiative. Led by the soccer star and with the goal of promoting the city as a tourist destination, Buenos Aires's government launched a campaign with LATCOM across 15 countries, including United States, England, Spain, Mexico, Uruguay, Colombia, Chile, Argentina, Peru, and Paraguay, among others.
Messi's image, together with the statement "Don´t miss Buenos Aires", was plastered on multiple and various types of outdoor boards. The media mix composed by Billboards, LED screens, Street Furniture and Transit media broadcast this message to the world in more than 25 cities, including New York, Miami, London, Madrid, Barcelona, Mexico D.F, Montevideo, Santiago de Chile, Bogota, Lima, Asuncion and important cities inside Argentina.
This ingenious and timely initiative of the tourism entity has generated multiple instances of positive awareness and feedback on digital media and social networks, in which Argentine expats shared images of various advertising media such as bus stops in Rio de Janeiro and Sao Paulo, or taxy roofs in the "Big Apple" of New York.